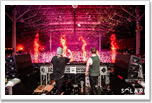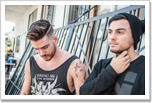 Adventure Club
Montreal, Canada ~ELECTRONIC MUSIC GENERATORS, PRODUCERS. MUSICIANS
ADVENTURE CLUB (both members' seasoned credible musicians) is a production team who uses SONAR Platinum to create sounds and tracks that are uniquely theirs. They've officially remixed the likes of Brand New, Thrice, Alexisonfire and Metric, just to name a few while stunning listeners with their collaborations such as "Rise & Fall" with Krewella. One of their most favored remixes is of Malaysian songstress Yuna's "Lullabies," which was utilized in the opening sequence of Ultra Music Festival's 2013 after-movie.
SONAR has enabled us to not sound like everyone else.
As one of the hottest acts in electronic music right now and with over 1.6 million likes on Facebook, Christian Srigley and Leighton James have been a tireless source of awe-inspiring remixes, uplifting summertime anthems, infectious DJ mixes, and explosive live shows since the duo's musical trip took off in 2010. At the pace these guys move and with the release of their debut EP Calling All Heroes (BMG)—which hit #1 on iTunes Dance Album chart in the U.S. and Canada as well as ranked over 10 HypeM #1 hits?there's no time to stop for a breather.
Prior to that in 2011, ADVENTURE CLUB scored the opportunity to film a video for their remix of Lips' "Everything to Me." For it, the two outfitted themselves in red and blue action hero outfits, armed themselves with samurai swords and battled an army of cardboard cut-out monsters. The video racked up more than two million views on UKF Music's dubstep YouTube channel. ADVENTURE CLUB has been brandishing their primary-color superhero aesthetic ever since, naming their popular mix series as well as their current national tour Superheroes Anonymous
Performing live has actually become a big part of life for ADVENTURE CLUB. Over the course of the past couple years, the duo has appeared at Lollapalooza, Electric Daisy Carnival, Ultra Music Festival and Electric Zoo just to name a few, and crisscrossed the country on multiple U.S. tours. They've added an arsenal of visual effects and LED panels for their current Superheroes Anonymous tour in support of their Calling All Heroes EP. The duo's four track EP is its most expansive yet. On it, Christian and Leighton team again with Yuna as the emotional heft of her voice soars over hands-in-the-air bass beats on lead single "Gold." (This collaboration with Yuna also garnered Adventure Club another significant festival promo spot as the lead track on Electric Daisy Carnival Las Vegas' 2014 announcement trailer). Later, they apply their dark, haunting low-end with heart-wrenching melody, and an anthemic electro-house rhythm with "Thunderclap." The EP also includes "Crash" as well as "Wonder" that has the pair teaming up with Australian producer The Kite String Tangle.
For more information visit http://www.weareadventureclub.com