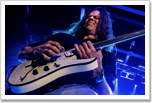 Chris Broderick
Los Angeles, CA ~ARTIST, PRODUCER, SONGWRITER
Starting from the early age of 11, Chris Broderick started on a journey that eventually brought him to every corner of our world. Little did he know at that time that he would accomplish what most musicians only dream about by being hand-picked as the guitarist for mogul-band Megadeth. As a multi-genre / multi-instrumentalist/vocalist, he got his chops like many others, long hours and hard work?which eventually paid off big for this SONAR expert.
SONAR's QuadCurve EQ and ProChannel are stellar. Out of all the EQ's I have used, I truly believe SONAR's sounds the most musical and useful to me in most cases.
For nearly a decade of performing and touring on 4 records with Jag Panzer, Chris enjoyed playing with the band while also taking part in live performances by the band Nevermore. In late 2007, Chis got a call from Shawn Drover, the drummer of Megadeth who had put forth his name in the hat of replacements for Glen Drover who had recently left the band. After Dave Mustaine saw a video of Chris playing guitar, on February 4th 2008 Chris made his debut appearance as the new guitarist for Megadeth. Dave Mustaine had commented that he thought Chris was the greatest guitarist Megadeth had ever seen, and that his collaboration with Chris reminded him of when Ozzy met Randy.
Most recently, Chris Broderick made the heartfelt decision to leave the band Megadeth and unlike your usual big-drama band-break, it was simply Chris's time to move on to something new… Act of Defiance with former band mate Shawn Drover.
Act Of Defiance includes Broderick, Shawn Drover (ex Megadeth), Henry Derek (ex Scar the Martyr) , and Matt Bachand (ex-Shadows Fall). They were quickly signed to Metal Blade records and will be releasing a new record sometime in 2015. In the works are also plans to start touring immediately upon release, and as far as the sound goes, it's an interesting mix of different types of metal from thrash to progressive which also includes some classical interludes as well.
For more information visit http://www.chrisbroderick.com/