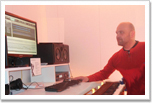 Jochen Flach
Frankfurt, Germany ~COMPOSER AND PRODUCER FOR GAMES, FILM & TV
Jochen Flach is a uniquely versatile award winning composer based out of Germany. His work can be found in renowned TV shows, movies and games ranging from the World Cup to Americas Got Talent, and everywhere in between.
The sounds I achieve in SONAR have a quality that I've never heard in any other system. The sound engine and workflow are why I stay with SONAR.
As a member of DYNAMEDION – Germany's leading game-audio company, he was awarded back in 2009 for the best game soundtrack (for the game ANNO 1404).
For more information visit http://www.jochenflach.de/