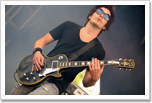 Les Hall
Columbia, SC ~ARTIST, COMPOSER, PRODUCER, TOURING MUSICIAN
Les Hall is an American composer, producer, multi-instrumentalist and songwriter from Columbia, SC best known for his involvement in Crossfade, 70 Volt Parade and Trey Anastasio's backup band after the demise of Phish. Besides touring around the world with Crossfade, he has also toured worldwide with Howie Day and has played piano/additional string arrangements on Rob Zombie's House of 1000 Corpses.
As a music creator, SONAR actually inspires me and acts more like a writing partner. The tools and features are so far advanced compared to other systems for what I do.
In addition to working as a session and touring musician, he uses SONAR to compose films like the score for the Hungarian documentary "Freedom's Fury," which was about the country's Olympic water polo team during the Revolution of 1956. This film was narrated by Mark Spitz and executively produced by Quentin Tarantino and Lucy Liu, and made its debut at the TriBeCa Film Festival while also being selected as a "feature" at Cannes the same year. He has also composed scores for National Geographic and other short films.
For more information visit http://www.crossfadeband.com/