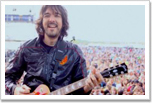 Yogi Lonich
Los Angeles, CA ~PRODUCER, SONGWRITER, COMPOSER, TOURING AND SESSION MUSICIAN
California born and raised artist, Yogi Lonich's most notable projects include recording for Shakira, DJ Zedd, Japanese superstar Koshi Inaba (Bz's), touring with Chris Cornell since 2006, and also being a former member of the bands Buckcherry, Wallflowers and Fuel.
I use SONAR in so many different ways to create finished tracks in different genres of music. For what I do, there's no way I could pull all this off on any other DAW.
Not to be overshadowed by anyone else, Yogi's natural progression as a seasoned professional transpired into a great solo feat where he has garnered a global fan base on his own. Utilizing SONAR and harnessing the power to become more of a recording producer on his own, he has achieved significant critical acclaim for his own solo records.
Outside of professionally touring and recording, Lonich also does a lot of commercial work for Film and Television right from his home project studio. When it comes to music diversity, there are very few folks anywhere who have the musical vocabulary of SONAR user Yogi Lonich. Listening to his SONAR sessions is like being flown around the world on a genre-bending rock jet.
From sounds of the Orient, to dramatic scores, to Black Keys-ish type rock, Yogi has been very busy in SONAR composing, producing and delivering extraordinary tracks for Network TV shows such as: A&E hit series: The Wahlbergers, Fox's hit series "New Girl," MSNBC's "Lock up," Disney's "Kickin' It," and National Geographic's "Wicked Tuna," to name a few. Yogi also recently placed a song for a Motel 6 commercial called "Paint The World" from his solo album entitled "Hesitant Poet."
For more information visit http://yogimusic.com/