The Complete Guide to Using Rewire — Part 2
Last updated on 3/28/2016
Put this powerful protocol to use in your projects
By Craig Anderton
PART 2: SETUP

For this tutorial, we'll assume your setup has:

A single MIDI controller
A MIDI interface with a single input port

This is the least flexible setup for running Reason or Project5 as a stand-alone program, as it complicates the issue of remote parameter control. But even this minimal setup works fine for integrating Reason or Project5 with SONAR or Home Studio.

For most of my work with ReWire clients and SONAR, I use M-Audio's Oxygen8 controller. This combines a 2-octave keyboard, 8 assignable control knobs, and a built-in USB MIDI interface. Most other setups will be variations on this theme, although for example the interface may be a separate component from the keyboard, and the number of controllers may be more limited (e.g, just a mod wheel, or mod wheel combined with data slider, footpedal, etc.).

Table of Contents

PART 1: BASIC Q&A

PART 2: SETUP

PART 3: Specific Applications for Project5

PART 4: Specific Applications for Reason
---
Project5 is already set up to run as a ReWire client within SONAR, Home Studio, and other hosts, so there isn't really any setup involved.
There are numerous ways to set up Reason, but using it as a ReWire slave has a few differences compared to using Reason as your main or only application.
Go Edit > Preferences > MIDI page.
Set Port to your interface port, and channel to 1.
Go Edit > Preferences > Advanced MIDI page.
For the purposes of the tutorials in this document, these parameters can be whatever you normally use for Reason. However, make sure that MIDI clock sync is set to "No MIDI Input."
SETTING UP SONAR OR HOME STUDIO
Go Options > MIDI Devices.
Verify that SONAR or Home Studio's desired MIDI in and out ports are highlighted, and located at the top of the MIDI Devices list. If a desired port is not at the top of the list, click on the port to highlight it, then click on "Move Selected Devices to Top."



Go Options > Project > MIDI Input. Make sure all MIDI channel numbers are checked. Echo mode doesn't seem to matter, as ReWire takes care of the MIDI integration between the two programs. Even if I set it to Auto, SONAR or Home Studio will set it to None.



Go Options > Audio > Advanced tab. Under "Playback and Recording," make sure "Share Drivers with Other Programs" is unchecked.


Sharing drivers is not a good idea, because switching to other programs could mute SONAR or Home Studio's outputs. Although you can get out of this by shifting the focus back to SONAR or initiating playback on the ReWire slave or master, it's easier to make the change in Preferences and not have to think about it any more.
INSERTING A REWIRE DEVICE INTO SONAR OR HOME STUDIO
The most important rules to remember are:
When starting a project, open SONAR or Home Studio first. Do not have Project5 or Reason open when you open SONAR or Home Studio. Insert Project5 or Reason only after SONAR or Home Studio are open.
It's a good idea to not have two projects open at the same time in SONAR.
When finishing a project, close Project5 or Reason first, then close SONAR or Home Studio. Doing the reverse won't cause any damage, but SONAR and Home Studio will issue messages asking you to close Reason or Project5 first.
To insert a ReWire device into SONAR or Home Studio:
Go Insert > ReWire Device > (ReWire device name, e.g., Reason).
The Insert Synth Options dialog appears. Here's what each box means.


MIDI Source Track - check this, as it creates a MIDI track for driving the ReWire application.
First Synth Output (Audio) - if you check this, SONAR and Home Studio add two audio tracks that carry Project5's or Reason's mixed stereo output. This is recommended for when you first get into using ReWire.
All Synth Outputs (Audio) - checking this causes SONAR and Home Studio to automatically create a separate audio tracks for each of the 64 audio outputs in Reason's "hardware interface" (at the top of the Reason rack). This is recommended for advanced users, as we'll explain later under advanced applications.
Synth Property Page - the Project5 or Reason interface opens up automatically. I'd recommend checking this for convenience.
Synth Rack View - this calls up the Synth Rack window. I generally leave this unchecked to avoid "window clutter"; you can always go View > Synth Rack if you want to see it.
Ask This Every Time - I usually leave this checked because sometimes I want First Synth Output, and sometimes I want All Synth Outputs, depending on the project.
After making your selections, click on OK. It takes a few moments to load up and insert Project5 or Reason, so be patient if it seems nothing is happening for a few seconds.
You can also access ReWire devices directly from SONAR and Home Studio's Synth Rack.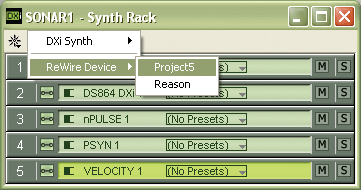 Let's verify that your computer is up to the task and all is working well. From there, we can move on to more advanced applications.
If you haven't already set up Project5 or Reason and SONAR or Home Studio as described above, do so now.
Close both Project5/Reason and SONAR/Home Studio if either one is open.
Open SONAR/Home Studio. For now, just close out of the SONAR/Home Studio Quick Start dialog to retain the default project (2 audio and 2 MIDI tracks).
Go Insert > ReWire Device, and select Project5 or Reason.
The Insert DXi Synth Options window appears. Refer to the section "Inserting a ReWire Device Into SONAR or Home Studio" for general guidance on which boxes to check or uncheck. For now, check MIDI Source Track, First Synth Output, Synth Property Page, and Ask This Every Time. Leave All Synth Outputs and Synth Rack View unchecked.
After selecting your options, click on OK.
Unless you've changed the Default Song.rns file, Reason will open up its default tune with a mixer, several instruments, etc. Project5 will open with its standard layout. For the purpose of this test open up the NightyNine.p5p demo file.
Give SONAR/Home Studio the focus. Upon inserting Project5 or Reason, SONAR/Home Studio creates a stereo audio track for their stereo mixer outs, and a MIDI track to drive them, after any existing SONAR/Home Studio tracks (with the Normal SONAR/Home Studio template, these show up as tracks 5 and 6 respectively).
Test the setup by clicking on SONAR or Home Studio's Play button. Reason's default song or the Project5's NightyNine should play, with both programs playing back in tandem.
Change the tempo in SONAR or Home Studio. Project5's or Reason's tempo will change to the tempo you selected.
Check the meters for SONAR/Home Studio Channel 5. They should indicate the audio that Project5 or Reason are producing.
Now go the Task Bar and select Project5 or Reason so its screen comes to the front. Note that you can stop and play the song with its transport buttons as well as SONAR/Home Studio's. In fact, you can click on Start here, then switch over to SONAR/Home Studio and click Stop on its transport (or vice-versa).
If you didn't encounter any problems in the above steps, ReWire is working.
Return to Part One: Basic Q & A.
Continue on to Part Three: Applications for Project5.