Sonitus fx:wahwah
Last updated on 3/29/2016
by Nick Arouca and Willy Jones
The Sonitus Wahwah emulates the always popular "wah wah" effect that has been heard on guitar tracks since the late 60's when it first came to existence and became popular. While it's not typical to use a wahwah effect on instruments other than guitars it can be used on just about anything. If you're in the curious mood, try using it on an acoustic kick drum track to discover some interesting sound design possibilities.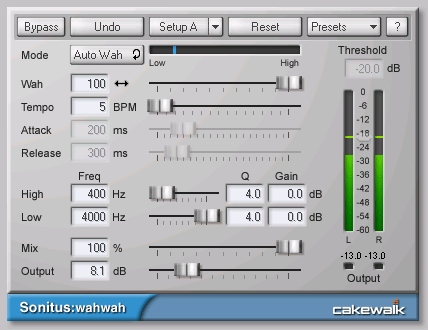 In this tip we are going to explore the three popular Wah effect pedals emulated by the Sonitus WahWah. In the following we will talk about their heritage and listen to the sounds. In all of these examples we are using the included presets with minimal tinkering. All of these were also done with the Mode setting in "Auto Wah". This guitar clip was recorded by worm eating sensation Fillmore Benson. Before we start exploring the different emulation types, give a listen to the unprocessed guitar signal.
The first tone we're going to explore is the Jim Dunlop Crybaby - GCB-95. Click the link to hear it in action. To get this effect we used the Preset "Dunlop Crybaby Auto". The GCB-95, sometimes referred to as the Original Crybaby is one of the most popular Wah pedals used by guitarists.
The next tone, and my personal favorites is the Jim Dunlop Crybaby - JH-1 Jimi Hendrix Signature. To get this effect pick the preset "Dunlop JH-1 Auto". This preset emulates the design of the 1960's Crybaby modeled wah pedal that Jimi Hendrix was believed to use.
The last preset we're going to explore is that of the Morley Pro Series Wah. You can get this effect by picking the preset "Morley Pro Series Auto". The Morley effects pedals get their signature tone by using electro-optical circuitry rather than a potentiometer to control the effect. This design change resulted in a tone that was different from other guitar effects that were in production at the time.
Now that you have an idea of the three major models the effect emulates- you can explore using some of the parameters in the Sonitus:fx Wahwah to sculpt your own orignal Wah tones.