I can't find my loops / How to use the Media Browser
Last updated on 3/7/2016
The information in this article applies to:
SONAR Platinum/Professional/Artist
SONAR X3 Producer
SONAR X2 Producer
SONAR X1 Producer
Music Creator 7
Music Creator 6 Touch
Music Creator 6
The Media Browser allows you to browse to anywhere on your computer to add media to your projects easily and conveniently.
By default the Media Browser starts in your Cakewalk Content folder, which is normally located at C:\Cakewalk Content. If you have loops on your computer that you want to access through the Media Browser you can simply move them into the Cakewalk Content folder and they will show up in the Media Browser.
If you want to navigate to another folder outside of C:\Cakewalk Content in the Media Browser, the easiest way to do so is by clicking on the drop down arrow next to Media and clicking Views > Folders as shown below: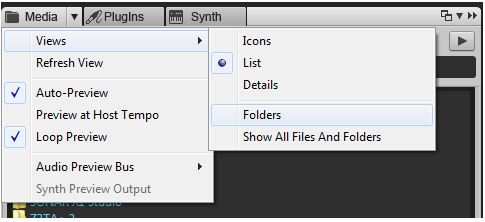 This opens a Windows Explorer style browser that lets you navigate to any folder on your computer. Once you have navigated to a folder on your computer, you can set it as a preset folder location by pressing the

Save button. Once saved, you can select the location from the Media Browser drop down menu to quickly return to that location.
Loops are just the beginning of what the Browser can do. It can drag in Templates of all sorts, or even actual Cakewalk projects you have already created. We have a great video on CakeTV called Browser - Exploring the Depths that demos this functionality: http://www.cakewalk.com/CakeTV/SONAR-University/Go-Deeper
You'll also find a great video titled Part 3: Working with loops that demos using Music Creator 6 with Instant Pop Star loops from the Media Browser at the link below.
http://www.cakewalk.com/CakeTV/Music-Creator