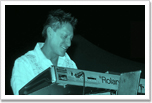 Bobbi Tammaro
Waterbury, CT ~PRODUCER, SONGWRITER, ARTIST
International Recording Artist, Songwriter, Producer Bobbi "Funkee Boy" Tammaro has amassed an impressive amount of credits throughout his music career using SONAR. He has scored numerous chart hits across multiple music genres including several top Billboard Chart Top 5 Smooth Jazz hits. He has also enjoyed great success with licensing deals on television networks such as ABC, FOX, NBC, CBS, SHOWTIME, VH1, etc. His music which is completely recorded in SONAR has, and continues to appear on some of the most popular and well respected sitcoms ever.
I have too many favorite reasons for using SONAR to name them all, but versatility, stability, sound quality and ease of use, are on the top of the list.
His debut smooth jazz CD "Rise" released in 2008 topped the charts of Smooth Jazz and was among the most played in the USA. The first single "Body Music" was a huge hit for Funkee Boy and follow-up hits "When Your Mad" & "Soul Dance" added to the success of this release.
His 2nd smooth jazz CD "Philosoulphy," released in 2012 achieved the #1 bestselling CD in Smooth Jazz, Soul Jazz, and the entire Jazz genre WORLDWIDE on CDBaby. Philosoulphy charted Top 5 Smooth Jazz and spawned the top 20 Billboard hits "All Up in It" and "Bliss."
Starting off 2014 by releasing his 3rd CD "Soul Purpose", Bobbi combined his talents by surrounding himself with a stellar line up of A-List recording artists. Soul Purpose featured guest appearances from Warren Hill, Najee, Bob Baldwin, Cindy Bradley, Nick Colionne, LEILA, Surface, Lamone, Timmy Maia, Tevin Michael to name a few. The 1st single "Let It Flow" featuring Warren Hill achieved Top 10 on all four Major Charts - #4 Billboard, #8 Groove Jazz, #9 American Music/USA TODAY, #10 Smooth Jazz Network. The release earned Funkee Boy his 2nd SESAC Smooth Jazz Award for radio play, and also achieved the #1 bestselling worldwide CD in Soul Jazz.
With all of his sales, charting and touring success, Tamarro has respectfully turned down approaching labels in the recent past as he has simply cracked the code as an indie artist competing in the big leagues. Bobbi tells us, "The number one thing is to do things right the first time, and be prepared to 'invest' and financially support your record. As an independent artist your record has to look, sound, and feel every bit as good as any major artist in your genre."
For more information visit http://http://www.funkeeboy.com/newsite/index.html#home