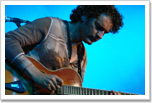 Chris Standring
Los Angeles, CA ~ARTIST, PRODUCER, SONGWRITER
Using SONAR and Cakewalk VSTi's, Chris Standring has been finding ways to break new ground in the Contemporary Jazz genre for over 15 years. His 2010 album 'Blue Bolero' spawned the hit single "Bossa Blue" which went to No. 1 at contemporary radio across the USA, and stayed there for nine consecutive weeks. "Bossa Blue" was then named 2010 Billboard Contemporary Jazz Track of the Year. He has had three No. 1 radio singles coming from the albums Blue Bolero, Electric Wonderland and Don't Talk, Dance.
I use a lot of loops and samples alongside real playing, so it's imperative for me to be able to audition these on the fly with SONAR's Skylight interface which makes it so easy to work. I totally dig the ProChannel as well.
SONAR has been the foundation for Chris's music, and he claims that the program has helped him articulate many of these hit songs. According to Chris, rather than start out with a specific roadmap he generally starts an album with a few basic concepts, then experiences that "snap" moment where the fun begins and he's furiously engaged on many different levels. The guitarist has long attributed his diversity to one thing: "I get bored with myself and I can't just rehash something I've done in the past. I have to do something fresh every time out and SONAR really helps me in that light."
Like other SONAR users, Chris has found the formula of success that works for him – on his own. After launching his recording career the traditional way on established jazz labels, he started his own company, Ultimate Vibe Recordings on which he has released all of his albums since 2008. This is quite an impressive feat considering the fact that the music industry is not just about writing chart-topping songs anymore. Not only is he constantly writing and recording, but he's constantly keeping up on Social Media and tours which take up a lot of time and effort as well.
Chris's live performance has brought him all over the world. He frequently tours extensively in the US, Europe and UK and some of his favorite shows have included Capital Jazz Festival, Jakarta Jazz Festival, Cataliana Jazz Festival and the Seabreeze Jazz Festival. For more information on Chris's touring schedule.
For more information visit http://www.chrisstandring.com/main_menu.html