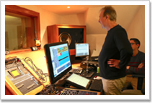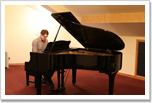 Daniel and Laura Curtis
Cardiff, Wales ~COMPOSERS, SONGWRITERS
Operated by producers/mixers/musicians/songwriters Al Steele, and Nigel Hart, Shabbey Road Studios is a full service studio just outside of Cardiff Wales running SONAR Platinum. It is nestled in a land known more for its castles and Celtic folklore rather than commercial music, but nevertheless, the team there is finding great success from London to New York City through their network of talented clients and talented staff.
Since we found SONAR, it has become instrumental in our music creation process and success.
Recently, Al Steele and the Shabbey Road staff have been recording Dan and Laura Curtis (also SONAR users) who are best known for their album "Love on 42nd Street," which was released in aid of the BBC Children in Need appeal. The record topped the Amazon and iTunes Broadway and Vocal charts in the UK and US, and featured a number of Broadway and Theatre artists including, Lea Salonga, Ramin Karimloo, Sierra Boggess, Samantha Barks, Simon Bowman and John Owen-Jones.
Daniel and Laura Curtis are also considered as one of the foremost ambassadors for the preservation of the Great American Songbook in the United Kingdom. The Great American Songbook offers a dazzling parade of American popular songs as seen and heard in some of the most beloved films and musicals ever made.
For more information visit http://www.danandlauracurtis.com/