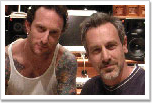 David Gamson
Los Angleles, CA ~SONG WRITER, PRODUCER, MUSICIAN, ARRANGER
Over the years, David Gamson has used Cakewalk's virtual instruments on countless Platinum-selling records. He has worked with, amongst others, Jessie J, Miles Davis, Meshell Ndegeocello, Chaka Khan, Luther Vandross, Roger Troutman, Sheila E., Michael McDonald, George Benson, Herbie Hancock, Bruce Hornsby, Maxwell, Green Gartside, Mos Def, Adam Lambert, Ke$ha, and Kelly Clarkson. The first two Meshell Ndegeocello albums "Plantation Lullabies" and "Peace Beyond Passion" were both nominated for Grammy awards and the Chaka Khan album "The Woman I Am" for which Gamson produced the hit single "Love You All My Lifetime" won a Grammy.
In an age where you have to always sound unique, I've used various Cakewalk synths over the years to create compelling sounds on many records.
The Kelly Clarkson song "Stronger (What Doesn't Kill You)" which Gamson co-wrote topped 16 Billboard charts, and was nominated for the Song of the Year Grammy award in 2013. He has also worked in film, as part of Hans Zimmer's team on the score of Mission Impossible 2 as well as composing music for television shows and commercials.
For more information visit https://en.wikipedia.org/wiki/David_Gamson