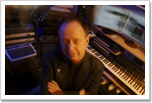 Doyle Donehoo
San Jose, CA ~COMPOSER, PRODUCER FOR VIDEO GAMES, FILM & TV
Mr. Doyle W. Donehoo is a mastermind composer based out of San Jose California. Using SONAR he composes and produces dramatic music for games as well as all mixed-media with the highest production values using the latest in music technology.
SONAR has proven itself over and over again to help me deliver top-notch, world-class tracks to my clients.
Some of his credits include scoring the video games:
Forge of Iron
The Wages of Treason
Warhammer 40,000: Dawn of War 2 OST
World of Warships
Warhammer 40,000: Dawn of War 2 (PCGAMER 2009 Strategy Game of the Year)
Dawn of War 2: Chaos Rising (PCGAMER Editor's Choice Award)
America's Army 2 and 3 (CGW Editor's Choice Award)
Savage 2
Warhammer 40,000: Dawn of War 2: Retribution
A musician at heart, Doyle has always been on the technical leading edge of music and sound. He is an expert in symphonic virtual orchestral music and mixed hybrid media. His 20 years as a former software engineer and manager makes him uniquely different from other composers of our time where he intuitively understand what's going on "under the hood" of his systems.
Besides writing and producing music in SONAR for some of today's most prestigious video games, Doyle has also lectured at the Game Developer Conference (GDC), NAMM, and many colleges on the subject of the computer based Virtual Orchestra. He has also been praised for his technical articles in various publications such as Music4Games and Virtual Instruments magazine.
For more information visit http://www.doylewdonehoo.com/index.htm