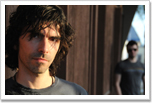 Jorg Kohring
Los Angeles, CA ~ARTIST, PRODUCER, SONGWRITER
Originally from Germany, Jörg found his current musical path in the U.S. originally playing guitar in the award winning band Lifehouse playing such venues as Madison Square Garden and The Staples Center. Since then, he has found success with his own LA-based band Orbit Monkey as well as his production work with other artists such as Katina from t.A.T.u. Her solo career has been getting a lot of attention, and Joerg is one of the supporting structures behind the scenes.
The main thing I love about SONAR is that you can truly use a ton of different features, and a bunch of different approaches to make your own signature sound.
Kohring operates out of his SONAR project studio in Los Angeles, and has seen some great licensing success with the tracks he has produced from that location. Orit Monkey's debut album "Are We Alive" which was created completely in SONAR, offered songs like "Let There Be Love" and "Used" which made their way into TV shows such as The Young and the Restless and Hollywood Heights. Another track he co-wrote and recorded with Lena of t.A.T.u. was placed in a movie "The Habit to Part" and has gone on to gain its own popularity.
For more information visit http://www.orbitmonkey.com/