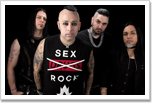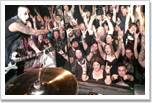 Norman Matthew
Dallas, TX ~FRONT MAN FOR MURDER FM, PRODUCER, SONGWRITER
SONAR user Norman Matthew is an incredibly driven musician, educator, a producer and songwriter, entrepreneur, and someone who can stay focused on the "long term." For years he has seen just about every angle of the music industry from touring internationally, to recording, to even opening up his own music academy called The Sound Foundation in TX for young prospering musicians.
SONAR has been one piece of my story that's opened up my musical future. The empowerment to record on your own – that is where it's at these days.
As the founder and front-man for his band Murder FM, Norman continues to fuel his true passion of entertaining audiences all over the globe. After experiencing some great success with an initial independent record completely created in SONAR, Murder FM focused on building their home markets in Texas and then pushed on to other markets in the US and internationally. They turned down some labels and decided to do things their own way with a sold out UK tour and opening shows with Black Veil Brides, Orgy, Halestorm, Powerman 5000, Young Guns, Korn, The Used, The Birthday Massacre, Sick Puppies, Trapt, Rob Zombie, Deftones, Avatar, Five Finger Death Punch, and The Pretty Reckless to name just a few.
They started to turn more industry heads after performing at "Trashfest" in Helsinki, Finland, and then found video success on Scuzz TV, NME as well as a Revolver Magazine "World Premiered" to over 150K Views in the first week outperforming many high profile major-label releases simultaneously. These accolades caught the attention of Grammy Award winning producer Beau Hill who decided to jump in on a new project.
Finally, and recently, the band found the right label partner with Famous Records Global (Sony/Red) and the final touches are being made on their upcoming record which includes a death-defying remix of the single by Tommy Lee. Interestingly enough, many of the tracks mixed by Beau Hill on the record were created by Norman in his SONAR studio stemming from the demos. "SONAR allowed me to capture a lot of great moments where there was really no need to go back to the drawing board."
As MFM head towards their first global release distributed by Sony/Red, the future is wide open and arena rock will live and breathe again in the fiery form of Murder FM!
For more information visit http://www.murderfmmusic.com