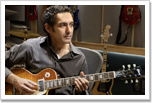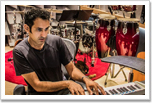 Vivek Maddala
Los Angeles, CA ~COMPOSER, PRODUCER, SONGWRITER, MUSICIAN
Vivek Maddala is an international award-winning composer and multi-instrumental performer. He has scored numerous feature films, theater & dance productions, and TV programs over the past decade using SONAR. On one end of the spectrum he is an extremely proficient musician, and on the other he is an expressive individual who seems to be able to tap into emotional components of film while gracefully tying everything together with unique global soundscapes. He is a Sundance Institute Lab Fellow for film composition, and recently had work premiere at the Cannes, Toronto, Berlin, and Sundance film festivals.
Out of all the DAWs I use, SONAR by far is the most creative
In addition to scoring films, Vivek has produced music for a number of rock, jazz, and world music CD releases -- and his live performances collaborating with celebrated artists have enchanted audiences from around the globe. As a performer, Vivek journeys fluidly through diverse musical styles, and effortlessly between many instruments -- including drums, piano, guitar, and bass. He has also served as a guest conductor with renowned orchestras and chamber groups, performing work he has written for ballets and films.
He also seems to land projects right in his wheelhouse such as Awake: The Life of Yogananda, The Parting Shot, and The Ballad of Snake Oil Sam; such films that lift the human spirit and elucidate the human condition. His works which have been noted extraordinarily diverse in style, stand out among contemporary compositions for their depth of expression, brilliance of sound, and profoundly humanist nature.
For more information visit http://maddala.com/