Working with PhotoVideo Albums
Last updated on 3/18/2016
The information in this article applies to:
A PhotoVideo Album is an HTML file you can upload to the Web, view on your computer or print, that has an index page at the beginning with thumbnail versions of all the photos and videos in the file.
A look at the MediaWorks PhotoVideo Show tab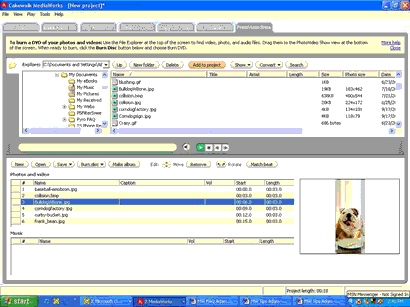 Clicking any of the thumbnails displays a full-size version of the photo, or first frame of a video (you can play the full video if you choose to copy the original into the project folder).
When you create an Album, you can choose at what size you want MediaWorks to display the pictures, and how the associated photos and videos are stored. This makes it easy to back up albums to DVD or CD, or to play any videos that may be in the Album.

To Display a PhotoVideo Album
1.In Windows Explorer, find the folder that has the name of your HTML album and double-click it.
2.Inside the project folder, double-click either the index.htm page or the default.htm page.
3.On the page you double-clicked, you'll see thumbnail pictures of all the photos and videos in the album (if there are lots of pictures, you may have more than one page).
4.To view any of the photos full-size, click the photo--a new HTML page appears with the photo displayed full size.
5.To go back to the index page, click the Index link that's at the top of the page; to go to the previous or next picture in the album, click the Previous or Next link.
6.You can run a video from the album if you chose the Include Original Photos and Videos option when you created the album. To run a video from the album, click the album on the Index page, and then click it again when it appears on its own page.